Founded in Brazil in 1939, Taurus Firearms started with revolvers only before evolving their product line to modern day, where they offer revolvers, steel or polymer framed pistols and law enforcement rifles. For many reasons, including the quality of product and low price point, Taurus pistols have really taken off in the United States market.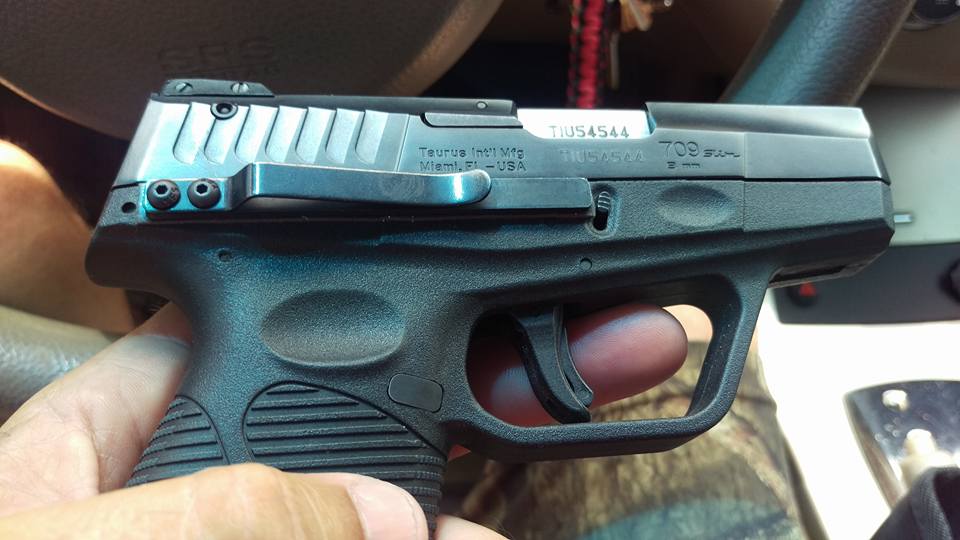 Many of their pistols are geared with concealed carry specifically in mind. Slim, lightweight and overall smaller frame pistols have really helped Taurus establish a footprint in the firearms market.
Along with the Taurus G2S and G2C the Taurus PT series has become very popular. In particular the Taurus 709 Slim was released to rave reviews. It is a subcompact 9mm designed specifically for concealed carry. The name, Slim accurately describes the gun. Less than inch wide and only 4.5 inches tall, the pistol compares to many of the small single stack 9mm on the concealed carry market.
For guns like the Taurus 709 Slim, the PT series or the new G2 series, we have just the product to keep your concealed carry overall package nice and small. Our Universal Clipdraw will replace and act as your holster for any gun in the Taurus line.
Even the slimmest of guns like the 709, can lose their effectiveness when you add the bulk of traditional style holster.
When carried inside the waistband, a traditional holster adds material, weight and bulk to your concealed carry. By adding our Clipdraw to the 709, it allows you to keep the most important concealed carry feature of the 709, its extremely slim width.
By carrying your 709 slim with the Clipdraw holster system, you will add no bulk at all. Keep your concealed gun slim and secure by using our Clipdraw. Even better, you can position our Clipdraw anywhere you would like on the Taurus pistol.
Move it up or down to adjust to your preferred depth of carry. Move it onto the left or right side depending on your body type and carry position.
Our Clipdraw holster on the Taurus 709, PT Series or G2 series will definitely be a must addition to your Taurus concealed carry pistol.
Additional Taurus Models