NRA America's 1st Freedom – Clipdraw Product Review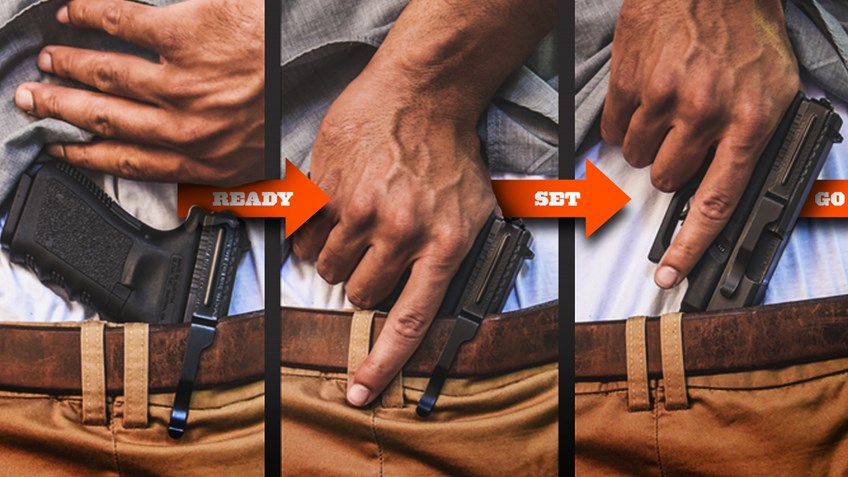 The First Gear team at NRA's publication: America's 1st Freedom reviewed the Clipdraw concealed carry system in their February product review. First Gear tests a wide variety of firearms, ammo, accessories, etc and gives their honest opinions on all the gear they review. In the past few months they've reviewed pistols, rifles, scopes, sights, knives, eye wear, tactical gear and new ammunition technologies. First Gear is widely respected in the industry especially with the powerful NRA name behind them!
In the February 28th edition of First Gear, Author Frank Winn put our Clipdraws through the paces – highlighting our Glock and 1911 models for this particular review. While we obviously hope for positive reviews from those such as First Gear, their opinions are completely their own. We do not interact in anyway with the reviewer. Fortunately for Clipdraw, Frank clearly sees and identifies the reasons to carry with our system, he writes: "(The Clipdraw) added no effective width whatever to either pistol type. As any gentleman or lady who carries at the waist can tell you, this is the biggest barrier to carrying at all times: The inability to fit IWB (inside thewaistband) in your existing selection of trousers, pants or skirt due to the extra circumference a conventional holster invariably adds. Most folks simply won't re-acquire a substantial percentage of their wardrobe to make this happen, and couldn't if they wanted to: How precisely do you match the trousers that go with that perfectly good two-year-old suit? A relatively major "oh-oh," at least."
For those concealed carriers who cannot find a comfortable holster and need to lessen the bulk of their everyday carry – Clipdraw is the viable solution for them.
Frank continued to praise the product and identified specific scenarios and situations when Clipdraw can be very effective.
"OK, enough. Is it clear we think this is a darn clever, extremely affordable gizmo that solves lots of problems?"
Our products are simple in concept and application, however they absolutely deliver on the promise for a slim, secure concealed carry without the bulk of a traditional style holster.
Make sure to head to the store section of our website to find the Clipdraw that works with your pistol or revolver. Remember – we back all of our products with a lifetime warranty and full money back guarantee! Give us a try today!
Read the full article here: http://www.americas1stfreedom.org/articles/2016/2/28/first-gear-economical-excellent-mgm-and-clipdraw/