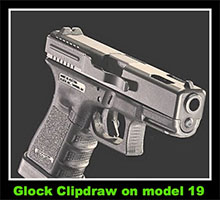 MATERIAL: spring tempered high carbon steel
COATING: premium quality TGIC polyester powder coating
FEATURES:
Included is a fully machined replacement slide cover plate that is drilled and tapped for attaching the Clipdraw (see installation instructions below).
The replacement cover plate can be left in place indefinitely, with or without the Clipdraw attached.
Extra screws and lock washers are included.
The TGIC powder coating prevents abrasion by providing a thin but highly durable polymer cushion between the Clipdraw and the slide.
Clipdraw models are available to fit standard or large frame Glocks.
Part #GS fits models: 17, 19, 22, 23, 24, 25, 26, 27, 28, 30S, 31, 32, 33, 34, 35, 36
Part #GL fits models: 20, 21, 21SF, 29, 30, 30SF, 37, 38, 39, 41
Part #G42 fits models: 42
Glock Installation Instructions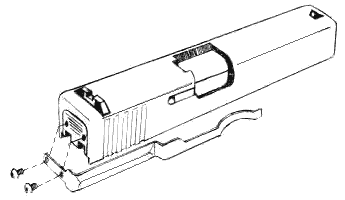 Following the instruction in your Glock owners manual, remove the slide from the frame then separate the barrel and recoil spring assembly from the slide. Following the instructions provided with your Clipdraw, remove the slide cover plate located on the rear of the slide. Install the drilled and tapped slide cover plate provided with your Clipdraw. Mount the Clipdraw on either side of the slide with the screws and allen wrench provided.