Every year at SHOT SHOW, we see the latest and greatest in the firearms industry.This year was no different, especially for firearm titan Glock.The Glock 43 has become one of the most popular handguns on the market due to its small size and conceal-ability.
The slim slide and 9MM rounds made it a top pick for concealed carriers.Our Glock 43 Clipdraw has become a perfect companion for the pistol.The Glock 43 combined with the Clipdraw and Trigger Sheath is one of the slimmest, smallest concealed carry options on the market today.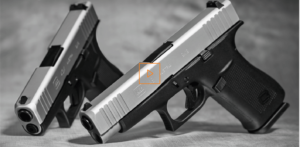 Piggybacking on the success of the Glock 43, Glock released two new concealed pistols at SHOT SHOW.The Glock 43X and Glock 48 both build on the original Glock 43 9MM frame with extra added features.
Both the Glock 43X and Glock 48 have expanded magazines, allowing the user to carry extra rounds in their magazine, while not affecting the overall slide width or size.Besides a new silver color, Glock was able to keep the slide the same width for the 43X and 48 as they did the original 43.
As the 43X and 48 become more popular, we get the question, does our Clipdraw fit with these new models?We are proud to answer, yes absolutely.The same Clipdraw model that has been so popular for the Glock 43 also fits with the new 43X and 48.
The slide cover plate is the same size on all three pistols and the slide width is the same too.This allows us to supply our customers with a Clipdraw that can fit any of the super slim 9MM Glock offerings!
Did you just purchase a new Glock?The 43X and 48 are both perfect options for concealed carry.When you think of concealing, think of Clipdraw.We've provided American Made gun belt clips for Glocks since 2001.The Original carry clip, make sure to check out our Glock 43, 43X and 48 Clipdraw.