Ahead of their annual meeting in Atlanta, GA, at the end of April, the National Rifle Association has announced a new concealed carry program. Complete with both training and insurance, Carry Guard, the most comprehensive training that the NRA has ever offered.
"Carry Guard really is another major extension in the NRA's efforts with respect to the concealed-carry movement. We worked that hard starting in the '80s and turned that into a national movement." Said Bill Powers, NRA spokesman. "And, in response to that, or as a result of that, there is a serious demand that we have felt from Americans who want this kind of top-level training and insurance program and, so, we're proud to offer it to them."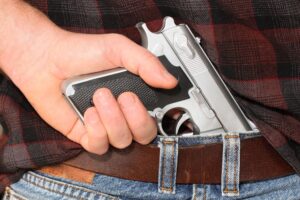 Carry Guard consists of two parts. The first is the training program. The program, reportedly developed by former members of law enforcement, the Navy SEALS, and Green Berets, is a concealed carry certification class that spans days, not just hours. The class goes beyond the basics of concealed carry and incorporates subjects like the proper concealed carry mindset, tactics of self-defense, and associated carry laws.
"People who have gone through the program are saying it's the best they've ever seen," said Powers. "It's a whole different ballgame. It's a whole different level of training."
As of right now there has been no word as to the cost of the program, the training schedule, or locations where the training will be held.
The second part of the Carry Guard program is the insurance, intended to help gun owners with legal bills and the associated costs, as needed. In addition to covering some of the financial obligations like bail, clean up, lost pay, firearm replacement, and psychological assistance, the program reimburses members their legal fees, up to their plan amount, once a case has been dropped or the policyholder is found not guilty.
There will be three levels of insurance available with the program. Bronze is the lowest level and covers $50,000 for criminal defense and up to $250,000 for civil cases. Silver covers $100,000 for criminal and half a million for civil. And the top tier, Gold, covers up to $150,000 for criminal defense and $1,000,000 for a civil case. The insurance, underwritten by Chubb Insurance, is available immediately.
"Of our 5 million members, a lot of those folks carry and they have been clamoring for the NRA to provide an elite product with respect to training, insurance, and education," said Powers. "The NRA has responded to our members and to the demand of the consumers, gun carrying consumers, that really wanted a first-rate elite program. NRA Carry Guard is an elite training, insurance, and education program. It is the finest in the world. For any citizen who gets up and puts a gun on their hip, Carry Guard is for them."