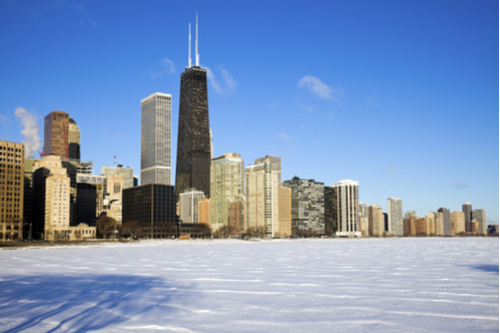 Christmas Eve is usually filled with hustle and bustle and last-minute running around. For one 31-year old man on the south side of Chicago, it also meant protecting himself from a would-be robber with his concealed weapon.
The man, who police would not identify, was leaving a store in a strip mall in the 1200 block of South Jackson in Chicago's Loop at about 6:15 PM on December 24th when he was allegedly approached by 37-year-old Corey Haggard. Haggard pulled out a gun and announced his intent to rob the man, demanding his money.
After Haggard stole the man's property, the 31-year-old pulled out his own gun and shot Haggard in the chest before he could flee with the man's belongings.
Haggard was taken to Stroger Hospital of Cook County, only minutes away from where the shooting took place. The medical examiner reported that Haggard was pronounced dead at 11:37 PM on Monday, December 25th.  An autopsy was scheduled for Tuesday.
Haggard had lived in the Lawndale area of Chicago before the incident.
Police have opened a death investigation. The robbery victim has a valid concealed carry permit from the state of Indiana.
However, this may prove to be a complication for the 31-year-old man. While Indiana is open to concealed carry permit holders from other states within their borders, Illinois famously is not.
As the 50th state to allow a concealed carry permit, Illinois shares no reciprocity agreements with any other states. To legally carry a concealed weapon in Illinois, you must have an Illinois issued permit.
Indiana, on the other hand, accepts permits issued in Colorado, Florida, Michigan, and New Hampshire. Twenty-nine other states accept Indiana's permit. While Illinois does not recognize Indiana permits, other Midwest states, such as Wisconsin, Iowa, and Michigan, do.
Because of the lack of reciprocity, the robbery victim may face challenges with the Illinois court system, if not for the shooting, then possibly for illegally carrying a concealed weapon according to state laws. No charges have yet been filed.