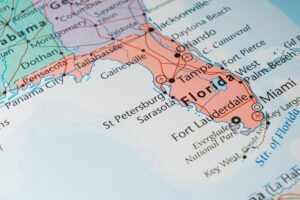 The state of Florida has announced that effective July 1st, 2017, they are reducing the concealed carry permit fees by $5 for both first-time applicants and permit renewals.
The office of Adam Putnam, Commissioner of Agriculture for the state of Florida, released a statement regarding the fee change, which Putnam's office worked on with state legislators.
For new concealed carry permits, the fee will drop from $60 to $55 at the beginning of July. License renews will now cost $45 instead of $50. The fees are the same for active law enforcement, correctional, and correctional probation officers according to the statement.
Additional fees associated with applying for a permit will stay the same. These fees include a $42 fingerprinting fee, and a convenience fee for tax collectors that process licenses that could be up to $22.
Putnam, who is planning a run for the governor's office in 2018, expressed his support for the fee reduction. "I'm a proud supporter of the Second Amendment and am dedicated to making our concealed weapon license application and renewal process as convenient as possible," he said. "By reducing the concealed weapon license fee yet again, we can put the savings back in the pockets of Floridians." Putnam's campaign platform will include support for gun rights.
This is not the first year that Florida has dropped the fee for concealed carry permits. The permits cost $75 in 2012, dropping by $10 in 2016, and another $5 this year. Previous fiscal analysis by state budget officials noted that even with the budget cuts the program could still be fully funded.
Some of that can be assumed from the sheer volume of permits. As of the end of May 2017, there was roughly one permit for every 13 residents or over 1.7 million permits.
The costs of permits are directly related to the number of permit holders, according to a 2016 survey completed by the Crime Prevention Research Center. According to the survey, every $10 increase in the cost of a permit results in roughly half a percentage point fewer adults who have concealed carry permits.
The costs of permits vary greatly from state to state. Florida's permit fee sits roughly in the middle of the range. On the low end, a concealed carry permit in South Dakota costs $10, where on the other end of the spectrum an Illinois permit costs $150.